Gloxinia (Sinningia speciosa) is a tropical plant native to Brazil. Gloxinias, which are related to African violets, are tiny plants that grow to be 6 to 12 inches tall with an equal spread and produce small, colorful blooms throughout the summer. Gloxinias, which are grown from tubers, are generally planted outside in the spring once the threat of frost has gone. Let's see how to plant gloxinia bulbs.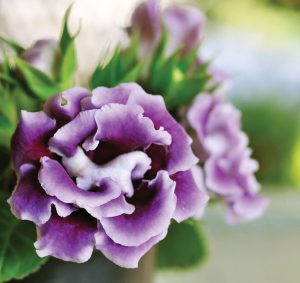 Now, lets see how to plant Gloxinia bulbs.
1. Mix approximately 3 or 4 inches of organic matter, such as peat moss, leaf mold, or compost, into the top 10 to 12 inches of soil in a place that receives two to four hours of sunshine each day.
2. 6 to 12 inch spacing between planting holes is recommended. Each hole should be twice as broad as the gloxinias' containers and the same depth. If you're planting gloxinias as tubers, make sure the holes are big enough for the tubers and the tops are 1/2 inch below ground when they're planted.
3. One to three hours before transplanting the nursery gloxinias into the garden, thoroughly water them in their pots. Then, with the container soil still intact, take the plants from the pots and place them in the middle of the holes. Set tubers on their sides with the eyeballs facing up, 1/2 inch below the earth, if you're planting them. Backfill the hole with dirt. Water the planting area with 1/2 to 1 inch of water and lightly pack it in.
Planting and growing Gloxinia bulbs are easy if we follow the above steps.