Bromeliads Plant
Bromeliads are a very diverse group of plants that occur in Middle and South America. Most bromeliads  grow on other plants instead of in the soil. When kept as a house plant, bromeliads can be grown in pots without problems. The pineapple plant is the most well know member of the bromelia family. There are many species and varieties of these plants, some stay small and others get large. The colors of the leaves and of the impressive flowers are also very diverse.
The truth is that bromeliads can be easily adapted to regular home conditions.
This is good news for the houseplant enthusiast because these are available in variant colors and textures. Bromeliads will thrive in the same conditions as epiphytic orchids. However, they are considerably more tolerant than orchids when considering fluctuations in temperature, watering and careless feeding.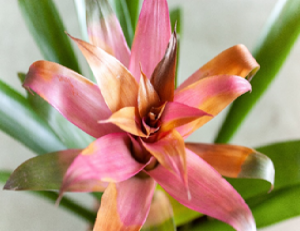 Picture Courtesy: The Spruce
How to Grow Bromeliads
Bromeliads are beautiful foliage plants. Their bloom cycle is affected by day length, temperature, humidity, water, and feeding.
Light
Different genera of these plants are tolerant of different levels of light. Some can withstand full tropical sun, while others will quickly scorch. In general, however, the plants prefer well-lit, bright windowsills, but not direct sunlight.
Soil
Although they are epiphytic, bromeliad can be grown in fast-draining potting soil. A mixture of 2/3 peat-based soil mix and 1/3 sand is a good idea. Bromeliad can also be grown mounted to boards and logs. I grow all my bromeliad plant using logs and free draining mix like orchid potting mix. If you wish to grow them in trees or on stumps, place a ball of sphagnum moss around the roots and tie them down with jute. These plants will need to be watered more often and consistently throughout the year.
Water
Most bromeliads have their own 'water tank' – the cup or vase shape formed where their rosette of leaves comes together. So, when watering the plant, ensure the cup is filled but don't allow the water to sit for months on end – it should be periodically flushed and replaced with fresh water. Keep the soil moist, but never wet.
Temperature and Humidity
These plants are also highly tolerant of temperature variations but remember that plants in hotter conditions will need more humidity. Ideally, they prefer temperatures between 55- and 80-degrees Fahrenheit. They cannot grow in temperatures under 40 degrees Fahrenheit.
Fertilizer
These plants are not heavy feeders. During the growing season, use a liquid fertilizer at 1/2 or 1/4 strength. If you use a slow-release pellet fertilizer and water the central cup, a single pellet dropped into the cup will suffice for a season. Slow-release pellets can also be mixed into the soil compost.
Propagation
A quicker and easier method of bromeliad propagation is by division. This means waiting until pup's form and gently cutting them away from the dying parent. Pup starts from bromeliad adults will take long time to grow, but it is half the time it would take for plants grown from seed and is so easy to do.
Varieties of Bromeliads
There are several subfamilies of bromeliad, including pineapples and Spanish Moss. However, the ones most often seen in cultivation are epiphytic plants that grow naturally in the tropical or subtropical regions of the Americas.
Guzmania: The most common houseplant variety, the Guzmania blooms clusters in various colors.
Neoregelia: Neoregelia plants are not difficult bromeliads to grow, but they are somewhat more dependent on strong light to develop deep, vivid colors in their leaves than others.
Pineapple: The ornamental version of the fruit, this bromeliad features spidery leaves and miniature pineapples on top of the flower spike.
Vriesea: Vriesea, like all other Bromeliaceae plants, requires soil that is sufficiently rich and very well-drained to grow well and has feather-like blooms and variegated foliage.
Problems
It may be dangerous to keep the cup filled because it will encourage bacterial or fungal growth.
Plants that are yellowish might be receiving too much light, while plants that are dark green or elongated may be receiving too little light.
Root rot usually results from a soil mix that does not drain quickly or overly frequent watering.
Scale and mealybugs are the most frequent insect pests of these plants.