Recently I came across a write up shared by my friend about a forest growing technique pioneered by a Japanese botanist names Akira Miyawaki.  Akira Miyawaki was born on 29th January 1928 and he is a Japanese botanist as well as an expert in plant ecology, mainly specializing in seeds and the study of natural forest. The magician who turns even a piece of land into a natural forest.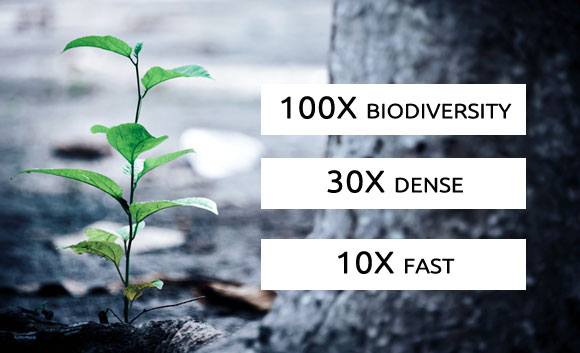 He is active worldwide as a specialist in the restoration of the natural vegetation on degraded land. He received the Blue Planet Prize in 2006. In a matter of 3 years, the trees frow up to 30Feet tall, and in just 20years time the forest will look and feel like a 100years old forest.
Hundreds of Miyawaki forests are being grown around the world, including in India.
I read the news in an online media about a Miyawaki Forest, cultivated in a place called Nellimattam, Kothamangalam in Kerala, India. This project is been prepared in collaboration with the Forest Department of Kerala which clearly tells how seriously people are considering Miyawaki techniques to grow thick forests for a greener tomorrow. Instead of the natural forest that has been forming for centuries, this forest has been scientifically developed for ten years.
"The landlord commented that he is happy that he has been able to bring his love for the forest to his backyards. "
What Exactly is Miyawaki Forest?
Miyawaki is an artificially created forest in a small space. This Forest growing technique is developed by Prof. Akira Miyawaki in 1970 a famous Japanese Botanist.
How Miyawaki can help the environment?
It is estimated that such forests can help prevent climate change. The magic behind Miyawaki is that we can grow a 100year old dense forest in a small piece of land in a matter of 20years.

How Do We Create A Miyawaki Forest?
Even if you have a cent of land you can start creating a forest.
Things Required:-
Coir Pith
Cow Dung
Husk
Soil
Seeds

Mix equal parts of coir pith, cow dung, husk, and soil. This will be the base for growing the forest.
Four seedlings per square meter are the calculation we need to keep in mind while sowing the seeds.
This means that we are planting 162 plants in a cent.
This approach is supposed to ensure that plant growth is 10 times faster and the resulting plantation is 30 times denser than the usual forests. It involves planting dozens of native species in the same area and becomes which finally becomes maintenance-free after the first 2-3 years. This method takes its inspiration directly from processes and diversity in nature: 15 to 30 different species of trees and shrubs are planted together. This plant community works very well together and is perfectly adapted to local weather conditions.
This is just an introduction. In upcoming blogs, I will tell you how to start setting your plot for Miyawaki and what kind of plants to consider.