MONSTERA DELICIOSA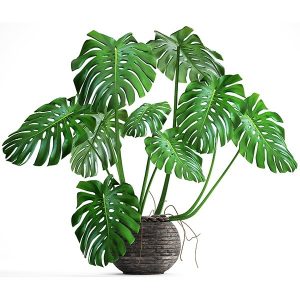 If you ask me which is my favorite plant I will tell 'Monstera Deliciosa'. Then You might think, why? So ever since I started growing plants I wanted to own this plant which is also known as the Swiss Cheese Plant. Its beautiful leaf which would make anyone fall in love with this beauty. Its a species of flowering plant native to tropical forests of southern Mexico and south to Panama. Due to its invasive nature now its seen in many other parts of the world in large amounts mainly in Hawaii, Seychelles etc now very commonly found everywhere. Because of its amazing beauty, we might have spotted its graphic leaves on everything from throw pillows to wallpaper.
Caring For Monstera Deliciosa
Monstera is an evergreen member of the Arum family and is from tropics of Central America. One of the classic houseplants is the tropical philodendron. Also known as the Swiss cheese plant, this plant is an easy to grow, large leaved plant with characteristic splits in the leaves.
Highly tolerant in nature with dry air.
Grows well when kept in bright but indirect sunlight.
Wipe Off the dust accumulated on the leaves regularly.
We can also mist the leaves with a spray bottle occasionally.
Water regularly during the growing season but less watering in the fall. Allow the soil to dry out slightly in between watering.
Peat-based potting mix is the best for Monstera Plant.
Fertilize the plant only in the growing season.
Water the pot deeply right after potting. Wait a week or two and then resume a monthly feeding with liquid fertilizer during watering.
When Monstera outgrows its current pot, transplant to a new pot a few inches larger in diameter and depth than the old one.