If you have noticed when we are away from home for one or two weeks, it doesn't take long for dust to accumulate. Similar to that, leaves on houseplants might block sunlight and reduce the plant's ability to photosynthesize. Cleaning the leaves frequently will make our work less and home amazing.
So, when it comes cleaning leaves it totally depends on how much dust is in the air. If you are staying near roads, or you get a lot of dusty wind or near to construction sites your houseplants might need cleaning more often. The best way to tell if a plant needs cleaning is to rub on the leaves. If you can feel or see dust more dust than you can blow off the leaves, it's time to clean. Here where i am staying we get lots of dusty wind very frequently and I clean the leaves once in a week without fail.
Ways To Clean:
When it comes to cleaning your houseplants, there are several ways you can go about doing so. Here are some of them:
1) Wipe Leaves
If you have bigger indoor plants which are difficult to move, you can wipe the leaves off with a damp cloth. Also, I used to dust the leaves with a common duster to help keep dust from building up on the leaves.

2) Spray Water
Many of our houseplants come from the tropics, where humidity is very high. However, "the air in our homes is generally dry". Plants with brown or dry leaf tips will benefit from regular misting. The easiest method for cleaning houseplants is to move them to the shower and wash the leaves with normal water. Test the water before spraying to make sure it is lukewarm. Both hot and cold water can injure the plant's leaves. Plants that cant's hold the force of shower or spray should be cleaned very carefully. Let the plants dry completely before moving them back.
3) Brush Softly
Some plants have sticky or fuzzy leaves that just don't lend themselves to easy cleaning. Some plants don't like getting their leaves wet, neither spraying or wiping is the answer. For fuzzy-leaved plants, use a soft brush such as a mushroom brush ,soft-bristle paintbrush, soft toothbrush, or pipe cleaner to very gently coax the dust from the leaves. Gently brush from the base of the leaf to the tip to dislodge dust and other debris.
4) Trim The Plant
While washing plants, it's easy to further tidy them up by getting rid of their dead, brown, or yellowing leaves. If the leaf falls loose easily, remove it immediately. Never pull resistant leaves of a plant, and only prune away just the browned leaf tips from plants that were left too dry.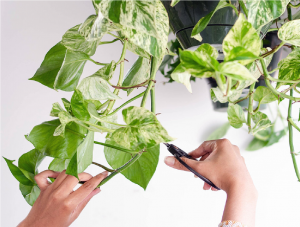 5) Clean the Pot
After putting in all this effort for cleaning your plants, why not ensure that the pots are in shape too? If salt or minerals have formed a white layer on the outside or rim of your pot, remove the plant, and thoroughly clean the pot. Wash the pot with a dilute bleach solution of one part bleach to 10 parts water. Clean off all the salt residue with a stiff brush and rinse the pot well before re-potting your plant.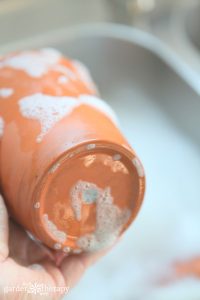 Now that you've learned how to clean houseplants, you can put these suggestions to work. Additionally, while keeping houseplants clean, examine them for signs of small bugs or damage from disease. This may appear first on the underside of the leaves. Scale may first appear on stems and can be treated with alcohol on a cotton swab. Many houseplant pests can be treated with neem oil as well.